This column is prepared in cooperation with the Museology-Educational Experimental Centre of the Andy Warhol Association in Medzilaborce.
http://www.andywarhol.sk, bycko@centrum.sk
---
The writer Michal Šmajda enters the encyclopaedia of personalities "WHO'S WHO"
Six of Warhol's paintings sold for 31.199.000 USD in an auction
In the last year, the value of Andy Warhol´s works has increased by 50 - 200%
I. Gašparovič is the first president to visit an exhibition opening of A. Warhol's works
ANDY WARHOL - LIFE AND ART WORK
Warhol is better known in Serbia than in our country
Obituary: John Warhola / Brother who was told, 'Your role is to take care of Andy'
May 31, 1925 – Dec. 24, 2010
Saturday, December 25, 2010
Before he died from drinking bad water at one of the construction sites where he worked, Andrij Warhola called his son John into the room for a talk about the family's future.
At 17, with his kid brother and mom to care for and another away in the military – World War II was raging -- John Warhola received a special order. His dad had stored away enough savings bonds to put the youngest boy through the first two years of college. The rest was up to John.
"My grandfather told my father, 'Your role is to take care of Andy and make sure he goes to school, because he's going to be successful someday,'" said Mr. Warhola's son, Donald.
In the years after, John Warhola sold parts for washers, dryers and stoves at a Sears store. When television arrived, he climbed roofs and installed the antennas. He cared for his mom and younger brother and sent Andy to Carnegie Tech and then on to New York City where he shortened the family name and became Andy Warhol.
Art legends must be born, but sometimes it takes an older brother to keep them from starving.
On one occasion, John Warhola took the Greyhound bus to visit his brother as he started out. He noticed cardboard plugging the holes in Andy's shoes. He left his own behind for his kid brother. Another time, after their mom, Julia, moved in with Andy in Manhattan, John visited to make sure they had turkey on Thanksgiving.
John Warhola, of Freedom, Beaver County, died at Allegheny General Hospital of pneumonia on Christmas Eve. He was 85.
Andy Warhol was often depicted as aloof, inscrutable -- a man running as fast as he could from his blue-collar, Pittsburgh roots. That was a myth, said Donald Warhola, and he knew because he was at home every Sunday when John and Andy talked.
The icon of pop art wanted weekly details about family and all things Pittsburgh.
"There's only one Andy Warhol. I know my father would not want that credit of being responsible or creating, but he played a pivotal role in helping Andy become what he wanted to become. He did that out of the love of his heart," said Donald Warhola.
Andy Warhol died in 1987 and his own dying instructions specified that his brother John would sit on the board of the foundation that oversees the Warhol legacy. Mr. Warhola was one of three board members who oversaw the Andy Warhol Foundation, and he became a key player in setting up the museum that bears the artist's name as well as another Andy Warhol museum in the family's ancestral home in Medzilaborce, Slovakia.
"We are losing our own father, our founder," said Michal Bycko, curator of the museum in Slovakia. "With the sudden departure of John Warhola, our museum is losing its soul."
Another board member, Rick Lowe, an artist in Houston, Texas, said John Warhola's family connection was essential in understanding Andy Warhol outside the context of the art world.
On visits by board members, Mr. Warhola would sometimes take them on a tour of the Oakland neighborhood in which the artist was raised.
"He was very interested in showing the board members the family home. He was interested in finding a way to preserve that," Mr. Lowe said.
In addition to his role with the art foundation, Mr. Warhola became the caregiver to his wife, Margaret, who was disabled by a stroke in 1995. Mrs. Warhola died in 2007.
While another brother, Paul Warhola, became an artist late in life with public exhibitions and widespread interest, Donald Warhola said his dad preferred to focus on the museums and his three children.
"His family was basically his hobby," he said.
In addition to his son Donald, of Cranberry, and brother Paul, of West Homestead, Mr. Warhola is survived by sons Mark, of Cranberry, and Jeffrey, of New Wilmington, Lawrence County.
Friends will be received from 2 to 4 and 7 to 9 p.m. Monday and Tuesday at the Thomas P. Kunsak Funeral Home, North Side, with a funeral to be held at 10 a.m. Wednesday at Holy Ghost Byzantine Catholic Church, North Side.
Burial will follow at St. John Byzantine Catholic Cemetery, New Castle.
By Dennis B. Roddy, Pittsburgh Post-Gazette

WARHOL PARTNERS GALLERY
(WPG)
MEMBER OF THE ANDY WARHOL SOCIETY
(AWS)
NEW YORK, USA,
PRIEVIDZA and MEDZILABORCE,
Mr. John WARHOLA
HONORARY PRESIDENT WPG MEMBER Of THE AWS
Dr. Michal BYCKO, Ph.D.
PRESIDENT AWS AND CHEF ART CURATOR WPG - AWS
Dr. Timo VLK
BUSINESS DIRECTOR WPG – AWS AND ART CURATOR
Martin CUBJAK, M.A.
VICE PRESiDENT SAW AND ART CURATOR WPG - AWS
Beáta BYCKOVÁ - MAJOROŠOVÁ, M. A.
Assistant of Honorary President WPG-AWS and President AWS
Iveta RUSINKOVÁ
Administrator
www.warhols.eu
art@warhols.eu
For sale
---
Artist

Andy Warhol

Title

Marilyn Monroe (FS-II.25)

Medium

Screenprint on white paper.

Year

1967

Size

36" x 36"

Edition

Edition of 250, signed in pencil and numbered with rubber stamp on verso; some signed in ball-point pen;some only initialled on verso; some dated. There are 26 AP, signed and lettered A-Z on verso.

Misc.

Portfolio of 10 screenprints.
Printer: Aetna Silkscreen Products, Inc./Du-Art Displays,New York
Publisher: Factory Additions, New York

PRICE : 195.000,- USD

Artist

Andy Warhol

Title

Marilyn Monroe (FS-II.27)

Medium

Screenprint on white paper.

Year

1967

Size

36" x 36"

Edition

Edition of 250, signed in pencil and numbered with rubber stamp on verso; some signed in ball-point pen;some only initialled on verso; some dated. There are 26 AP, signed and lettered A-Z on verso.

Misc.

Portfolio of 10 screenprints.
Printer: Aetna Silkscreen Products, Inc./Du-Art Displays,New York
Publisher: Factory Additions, New York

PRICE : 200.000,- USD

Artist

Andy Warhol

Title

Marilyn Monroe (FS-II.28)

Medium

Screenprint on white paper.

Year

1967

Size

36" x 36"

Edition

Edition of 250, signed in pencil and numbered with rubber stamp on verso; some signed in ball-point pen;some only initialled on verso; some dated. There are 26 AP, signed and lettered A-Z on verso.

Misc.

Portfolio of 10 screenprints.
Printer: Aetna Silkscreen Products, Inc./Du-Art Displays,New York
Publisher: Factory Additions, New York

PRICE : 195.000,- USD

Artist

Andy Warhol

Title

Marilyn Monroe (FS-II.39)

Medium

Screenprint on white paper.

Year

1967

Size

36" x 36"

Edition

Edition of 250, signed in pencil and numbered with rubber stamp on verso; some signed in ball-point pen;some only initialled on verso; some dated. There are 26 AP, signed and lettered A-Z on verso.

Misc.

Portfolio of 10 screenprints.
Printer: Aetna Silkscreen Products, Inc./Du-Art Displays,New York
Publisher: Factory Additions, New York

PRICE : 200.000,- USD

Artist

Andy Warhol

Title

Marilyn Monroe (FS-II.30)

Medium

Screenprint on white paper.

Year

1967

Size

36" x 36"

Edition

Edition of 250, signed in pencil and numbered with rubber stamp on verso; some signed in ball-point pen;some only initialled on verso; some dated. There are 26 AP, signed and lettered A-Z on verso.

Misc.

Portfolio of 10 screenprints.
Printer: Aetna Silkscreen Products, Inc./Du-Art Displays,New York
Publisher: Factory Additions, New York

PRICE : 195.000,- USD

Artist

Andy Warhol

Title

Lenin

Medium

Screenprint on Arches 88 paper.

Year

1987

Size

39.375" x 29.5"

Edition

Edition of 120 ( 19/120 ), 24 AP, 6 PP, 10 HC, signed and numbered in pencil lower left. There are 46 TP signed and numbered in pencil as noted above.

Misc.

Printer: Rupert Jasen Smith, New York
Publisher: Galerie Bernd Klüser, Munich, Germany

PRICE : 110.000,- USD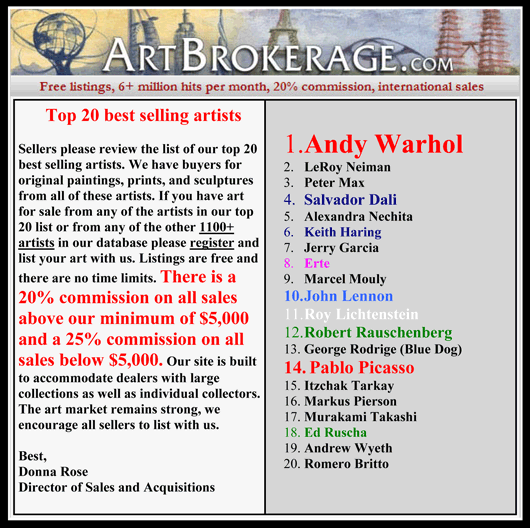 Andy Warhol + Dano Brogyányi
FUJIFILM galéria/FUJIFILM gallery
Vernisáž: 2. 7. 2008, 18.30/ exhibition opening: the July 2nd, 2008 at 6.30 p.m.
Diela zapožičané zo zbierok Warhol Partners Gallery, člena Spoločnosti Andyho Warhola v Medzilaborciach, Slovenská republika / Courtesy of the Warhols Partners Gallery, member of the Andy Warhol Society in Medzilaborce, Slovak republic
Kurátori: Dr. Michal Bycko, PhD., Mgr. Martin Cubjak / Curators: Dr. Michal Bycko, PhD., Mgr. Martin Cubjak
Organizuje FOTOFO / Organised by FOTOFO
Adresa / Address: Prepoštská 4, Bratislavawww.sedf.sk
otvorené denne okrem pondelka 13.00 – 18.00 / open daily from tuesday
to sunday 1 p.m. – 6 p.m.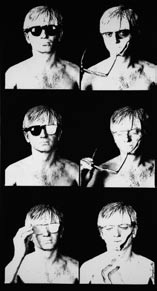 At the time when in the USA the Abstract Expessionism was on its decay as well as the idea of an artist being the highest shaman and a great intelectual, a new "hunger" for a light, cheap, sweat... consume and art perception arouse in the fed up American society. A new space was created to be filled in by artists working at the beginning of the 60's and 70's in Europe and the USA with a big "ART" and even a bigger "POP". In the foreground, there stood a simple manipulation with those who were literally asking for it. In the foreground, there stood artists demonstrating such a manipulation to people by means of art. In the foreground, there stood artists which joined a movement called pop-art by their personal artistic projects. Andy Warhol became soon a personality of the biggest artistic profile in Pop Art. His heritage has prepared a ground for a creative ambition of artists overstapping not only his message, but also his huge creative potention in multimedia. Daniel Brogyányi follows this heritage probably the most obvious and intensive way in Slovakia. He is an artist on the border between the seriousness of expression and the banality of topic. His overstapping of Warhol's pop-art idea to impose a seriousness and dignity in banality makes it the most evident. Instead, Brogyányi inserts banality and morbidity into seriousness within Post Pop Art. While the portraits by Andy Warhol capture famous personalities in different edition and colour variation, the portraits by Daniel Brogyányi capture famous personalities in regard to an ironic depiction of his-her character (Peter Lipa (in English the last name can be transalted as lime tree) portrayed with a lime flower atc.). Of course, overstapping a simple artistic heritage by editing or reinterpretation in the form of portrait is not new. However, by Brogyányi there is a novelty in the pureview of searching for new parallels and similarities; the pureview of searching for a percipient which looks for and brings in that necessary and essential moment of a permanent non transparency and the creative aspect of being unfinished in art. His destructive treatment of flora and faun through means of computer is also interesting. He does not describe or interpret; he shows us these objects in circumstances suggesting entirely new or scarce conotations.

Mgr. Martin Cubjak curator MMUAW
The writer Michal Šmajda enters the encyclopaedia of personalities "WHO'S WHO"
On April 29th, 2008, after a proposal by The Andy Warhol Society in Medzilaborce, WHO'S WHO WORLD SOCIETY CORP., PANAMA, branch Personenenzyklopädien AG, Zug in Switzerland included Michal ŠMAJDA, a Rusyn writer, ethnographer, folklorist and anthropologist in its encyclopaedia among other personalities of academic, political, economical, cultural and artistic life of the society.
The Andy Warhol Society congratulates Michal Šmajda on the occasion of this world honour and wishes him a lot of further creative inspiration and success.
Dr. Michal BYCKO, Ph.D., F. A .B. I.,
2. 6.2008

Six of Warhol's paintings sold for 31.199.000 USD in an auction
On May 14th, 2008, SOTHEBY's international auction company held an auction in New York selling works of those artists who have been productive since the 1950s. According to the auction statistics, 85 works in total were sold for 362.037.000,- USD. The most expensive painting sold at the New York auction was TRIPTYCH by FRANCIS BACON, for which an art collector paid 86.281.000,- USD. Some works by ANDY WARHOL, the king of pop-art, were also among those sold for over 1 million American dollars, in some cases the actual selling price was several million higher than the recommended price. Six of Warhol's works were sold for a total amount of 31.199.000,- USD. Another 35 works of art by Andy Warhol were sold on May 15th, 2008 as part of an auction on the occasion of Modern Art Day in New York.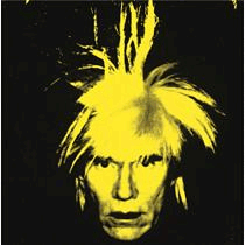 LOT 11

ANDY WARHOL
1928-1987
SELF-PORTRAIT
Lot Sold. Hammer Price with Buyer's Premium: 3,065,000 USD
MEASUREMENTS 21 7/8 x 21 7/8 in. 55.6 x 55.6 cm.

DESCRIPTION acrylic and silkscreen ink on canvas
Executed in 1986, this work is stamped twice, initialled by Vincent Fremont and numbered P040.049 on the overlap; also stamped on the reverse.
PROVENANCE
Estate of the Artist
Andy Warhol Foundation for the Visual Arts, New York
Stellan Holm Gallery, New York
Acquired by the present owner from the above in May 2001

EXHIBITED
Greenwich, Bruce Museum, Pleasures of Collecting: Part II. 20th Century and Contemporary Art, January - April 2003

New York, Pittsburgh.....Medzilaborce? Not generally known as a pop art barometer, this backward outpost of northeastern Slovakia has more in common with communism than consumerism. So when a museum dedicated to art-legend Andy Warhol was founded here a few years ago, it caused quite a sensation -- and not a little controversy.
Born in Pittsburgh to Czechoslovakian immigrant parents, Andy Warhol (1928-1987) never put much stock in his family background. When asked where he was from, the elusive artist once quipped, "I come from nowhere." Yet, thanks to the Medzilaborce museum, "nowhere" is fast becoming a place of pilgrimage for Warhol fans in search of the artist's Eastern European roots.

"Everyone knows about Andy Warhol, superstar," says Michal Bycko, a high school art teacher who, along with Andy's brother, John Warhola, and the Warhol Foundation in New York, established the museum not far from the birthplace of Warhol's mother, Julia. "We want to show that there is another side to his persona: Andy Warhol, the boy from Ruthenia."
by Robert Rigney

There is a curious postcard on sale at the Andy Warhol Museum of Modern Art at Medzilaborce, in northeastern Slovakia. It shows the American Pop artist pushing his bike down the town's slushy main street. With his trademark silver-white hair, Warhol looks slightly out of place amid the communist-era low-rises lining the street.

For a good reason. Though his parents emigrated from the area in the early 1900s, Pittsburgh-born Warhol never visited Slovakia, much less Medzilaborce, a remote town of 6,500. But that has not stopped the locals, few of whom had ever heard of Warhol or Pop art before 1989, from adopting him as one of their own. "If you want to know Andy Warhol the superstar, go to Pittsburgh," says Michal Bycko, the museum's curator. "But if you want to know him as a person and what he was like before he became famous, you need to come to Medzilaborce."

The region is an unlikely setting for the world's second-largest museum dedicated to Warhol's work and life (Pittsburgh has the biggest). It is a forgotten land of mountains, storks, scarecrows and industrious people — a quarter of whom are unemployed — struggling to adjust to post-communist life. "It's so strange to find Warhol here, in the middle of this nowhere," says Heiko Schramm, 36, a visitor from Chemnitz, Germany.
Monday, Jul. 29, 2002 By JAN STOJASPAL/MEDZILABORCE

A man from nowhere, a man present anywhere yet always stays at the background. Andy Warhol was born on 6th August 1928 v Pittsburg. He was born the son of Ruthenian parents from Miková, which lies on the eastern part of the Slovakia. He enforced a new of expression of the artistic idea in the art thus becoming the Superstar, the king of Pop-art and also a cult personality of art and life of the 20th century. Reporter of the era, portrait painter of society, graphic artist, drawer, photographer, filmmaker, author of theatrical performances and autobiographical letters, producer and manager of rock music, publish of the magazine Interview and ultimately the leading personality of the (in)famous Factory in the very heart of New York. The artists who tried an confirmed his own life-long concept of presenting the mundane motifs and eccentric pictures of snobbish and consumerist society without actually destroying his reputation as a person with a crucial status in American society as a cultural scene celebrity. He was both unusual intellectual eccentric and mysterious person confirming his image by numerous ambiguous statements about himself, his art and life. If you want to know everything about me, look at the surface of my pictures, movies and my person: ´´That is me, there is nothing hidden underneath them.´´ Andy Warhol expressed himself. He produced a great number of thematic works of art using the screen printing technique. They seem to be visually very obvious and comprehensible, but their background has got a very elaborate logical structure of their motive. At analysing the majority of his daunting metaphors we find out that the visual content of his works is imbued with hidden implication but nevertheless carries along with it a barrier, which nullifies these derived meaning thus exposing his true intentions.
Martin CUBJAK, M.A., 14. 1. 2008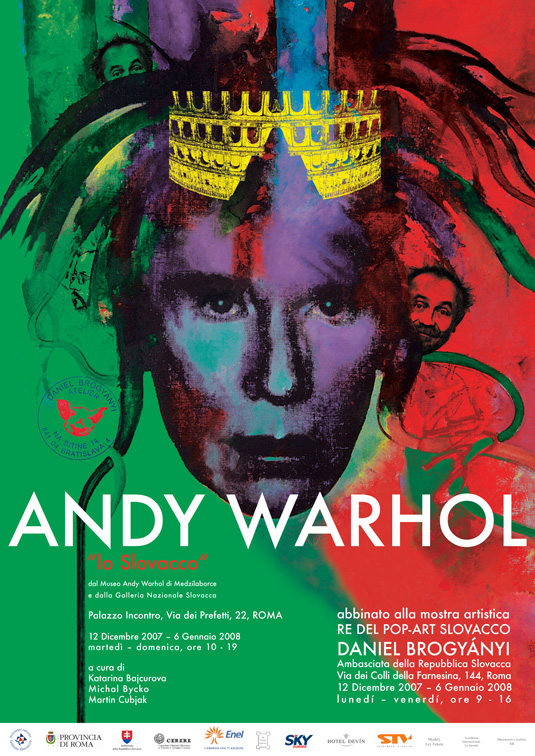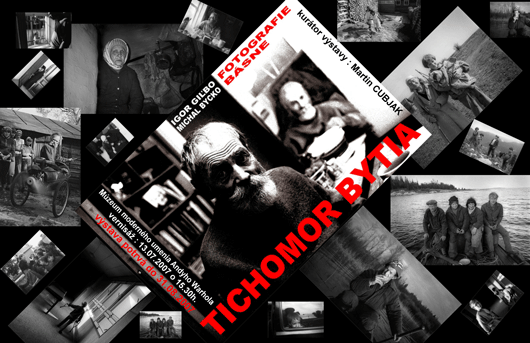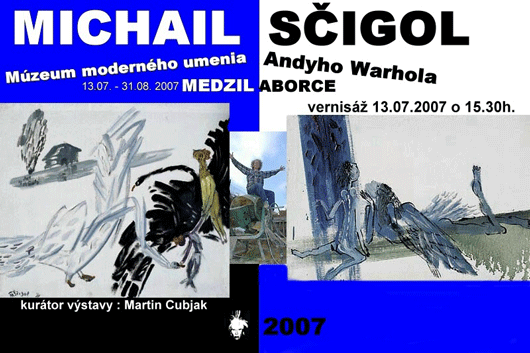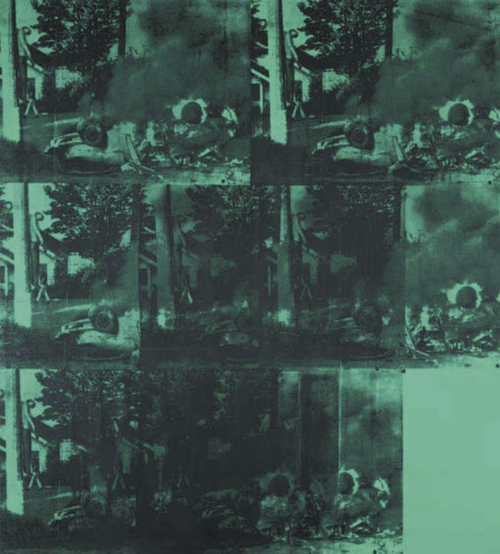 Sale Date May 16, 2007
Lot Number 0015
Sale Number 1834
Creator Andy Warhol (1928-1987)
Lot Title Green Car Crash (Green Burning Car I)

Estimate 25,000,000 - 35,000,000 U.S. dollars
Price Realized 71,720,000,- U.S. dollars
---
Green Car Crash (Green Burning Car I)
synthetic polymer, silkscreen ink and acrylic on linen ( canvas)
90 x 80 in. (228.6 x 203.2 cm.)
Painted in 1963.
Provenance : Galerie Ileana Sonnabend, Paris
Gian Enzo Sperone Arte Moderna, Turin
Remo Morone, Turin
Anon. sale; Christie's, London, 6 December 1978, lot 229
Galerie Bruno Bischofberger, Zurich
Acquired from the above by the present owner

Literature Andy Warhol, exh. cat., Institute of Contemporary Art, Philadelphia, October-November 1965, no. 4 (illustrated).
D. Antin, "The Silver Tenement," Art News, vol. 65, no. 4, Summer 1966, p. 47 (detail illustrated as Disaster).
A. Boatto, Pop Art in USA, Milan, 1967, p. 217 (illustrated).
M. Compton, Pop Art, London, 1970, no. 107 (illustrated).
R. Crone, Andy Warhol, New York, 1970, no. 326 (illustrated in color).
O. Hahn, Warhol, Paris, 1972, p. 60 (illustrated).
S. Wilson, Pop, London, 1974, no. 11 (illustrated in color as Green Disaster).
R. Crone, Das Bildnerische Werk Andy Warhols, Berlin, 1976, no. 764 (illustrated).
A. Boatto, Pop Art, Rome, 1983, no. 20 (illustrated in color).
J. Hendrickson, "Andy Warhol," Nike, vol. 5, no. 20, October/November 1987, p. 24 (illustrated).
D. Bourdan, Andy Warhol, New York, 1989, p. 38, pl. 134 (illustrated in color).
K. Honnef, Andy Warhol 1928-1987, Cologne, 1989, p. 53 (illustrated in color).
Art e Dossier, no. 105, 1995, p. 38 (illustrated in color).
A. Zaera, "Zwischen Geischt und Landschaft," Arch +, nos. 129-130, December 1995, p. 101 (illustrated).
G. Frei and N. Printz, eds., The Andy Warhol Catalogue Raisonné of Paintings and Sculptures 1961-1963, vol. 1, New York, 2002, pp. 385 and 388, no. 425 (illustrated in color).
ExhibitedParis, Galerie Ileana Sonnabend, Warhol, January-February 1964 (illustrated).
Turin, Gian Enzo Sperone Arte Moderna, Warhol, February 1965 (illustrated).
Turin, Galleria Civica d'Arte Moderna, New Dada e Pop Art Newyorkesi, 1969, no. 73 (illustrated).
Pasadena Art Museum; Chicago, Museum of Contemporary Art; Eindhoven, Stedelijk van Abbemuseum; Musée d'Art Moderne de la Ville de Paris; London, Tate Gallery and New York, Whitney Museum of American Art, Andy Warhol, May 1970-July 1971, no. 18 (Paris, no. 59, London, no. 98).
Kunsthaus Zurich, Andy Warhol, 1978, no. 76 (illustrated).
Kunstmuseum Thun, Das Auto in der Vitrine, July-August 1985.
Kunstverein Hamburg, Andy Warhol, October-December 1987, no. 5 (illustrated in color).
Kunstmuseum Lucerne, Andy Warhol Paintings: 1960-1986, July-September 1995, no. 12 (illustrated in color).
Riehen/Basel, Fondation Beyeler, Andy Warhol: Series and Singles, September-December 2000, pp. 99 and 196, no. 45 (illustrated in color).
Lot NotesThe Car Crash paintings that Warhol made between late 1962 and early 1964, form the most varied and extensive group of pictures in his seminal series of Death and Disaster paintings. Drawing on six different documentary source photographs each outlining six separate, horrific and increasingly bizarre fatal accidents, Warhol's Car Crashes remain among the most powerful, challenging and provocative paintings made by any artist in the Post-War era.

Green Car Crash (Green Burning Car I) is one of the masterpieces from this series. It is an unforgettable painting that makes multiple use of what is arguably the most extraordinary, strange and disturbing source image of all those used in Warhol's famous Death and Disaster paintings. Describing more than just the scene of a car crash, this large electric green colored painting is a haunting work whose macabre and endlessly puzzling imagery startles with its stark and repetitive photographic presentation of a mundane suburban street shockingly transformed into a horrific disaster scene bordering on that of a surrealistic nightmare.
Silkscreened over a phthalo green background, Green Car Crash (Green Burning Car I) is a unique, seemingly mechanically colored work that belongs to a series of five paintings all made in the summer of 1963 and once known as the "burning car" paintings, that use the same source photograph. The other four paintings, White Disaster I (Staatsgalerie Stuttgart), White Disaster II (Museum für Moderne Kunst Frankfurt am Main), White Burning Car III (Andy Warhol Museum, Pittsburg) and the smaller image, White Burning Car Twice, are all executed solely in the newsprint-like tones of black and white. The extraordinary source image used by all these imposing and famous pictures was taken by photographer John Whitehead and inserted, apparently arbitrarily, into an article on racial integration that appeared in the June 3 issue of Newsweek in 1963. The caption that accompanied the photograph in the magazine described the photograph and the scene it records as follows: "End of the Chase: Pursued by a state trooper investigating a hit-and-run accident, commercial fisherman Richard J. Hubbard, 24, sped down a Seattle street at more than 60 mph, overturned, and hit a utility pole. The impact hurled him from the car, impaling him on a climbing spike. He died 35 minutes later in hospital."

The photograph used in these paintings describes therefore, a freak accident. Like the black irony implicit behind Warhol's later Ambulance Disaster paintings showing the horrific and fatal result of a collision between two ambulances returning from the same crash scene, or the terrifying and almost comic minimalism of Foot and Tire, one of the key features of Green Car Crash (Green Burning Car I) is the truly strange and exceptional nature of its imagery. In one freakish instant, a peaceful suburban street has been transformed into a horrifying scene of hell. It was this truly unique moment of reality, this peculiar moment of transition, when all values were transformed, life extinguished into death, the banal and the mundane into the exceptional and extraordinary - that particularly fascinated Warhol in many of the Car Crash images he chose, captivating his imagination at precisely the same time that it also terrified him. As David Bourdon has recalled, all throughout his life Warhol had an acute terror of unpredictable and indiscriminate death - something which, by his own admission led to such things as a perpetual and irrational fear of the driver of whatever car he happened to be in falling asleep at the wheel. Deeply conscious of the ever-presence of death, Warhol was mesmerised by the shallow fleeting transience of life and the thin, fragile intensity of reality - the way in which things could be here one minute and gone the next. Something of this existential transience is implicit within the shallow photographic realism Warhol offered up in his paintings through the silkscreen technique. It is an element that is particularly emphasized in his Death and Disaster series and nowhere more so than in the "burning car" crash pictures such as Green Car Crash (Green Burning Car I).

Following on perhaps, from his painting Suicide (Fallen Body) in which a woman's body lies amidst the crumpled wreckage of the car she had fallen onto, in Warhol's first great Car Crash paintings, Green Disaster 2 (Museum für Moderne Kunst, Frankfurt am Main) and Orange Car Crash 14 Times (MoMA, New York) for example, the artist's concern was with the bizarre and horrifying intermingling of mangled human bodies and crumpled metal. It is in these paintings that Warhol first displays his interest in transforming, through a pattern of repetition, horrific reality into an abstraction - one which he later likened to being like "dress fabric." "When you see a gruesome image over and over again," Warhol told Gene Swenson at the time, "it really doesn't have any effect" (Andy Warhol cited in "Interview with Gene Swenson," Art News, New York, November 1963).

Using the shallowness and apparent objectivity of the photographic image and the ease of repetition provided by the silkscreen process, Warhol sought in these works to explore the power and potency of such horrific images of man merged with machine. Running the same image repetitively across a brightly colored monochrome canvas in such a way that the eye becomes accustomed to its sequential and even patterned rhythm or play of form, Warhol not only sanitizes his imagery and makes it familiar, but he abstracts it, transforming its horrific and shocking power into something banal and vacant. In subsequent Car Crash images, such as 5 Deaths, it is less the abstract and more the strange, bizarre, almost unreality of the photographic image and the accident itself, that appears to capture Warhol's attention and which his paintings focus upon. Verging on surrealism, Green Car Crash (Green Burning Car I) is the ultimate example of this other tendency in Warhol's Car Crash paintings. Like something from David Lynch's Twin Peaks or Blue Velvet, where the charming and banal idyll of a suburban community is shown to be nothing more than a shallow artifice of respectable surface appearance beneath which there lurks a darker reality of horror and depravity, Green Car Crash (Green Burning Car I) reveals a very real but similar rift in the world of appearances. And it does so with all the gritty realism and mechanical style of an illicit movie or a film noir.

What is most remarkable about the source image used in Green Car Crash (Green Burning Car I) and what distinguishes it from all other of the Car Crash images is the startling contrast that it reveals in its foreground and background. In the foreground of the painting Richard Hubbard's overturned car lies in flames, while his body, impaled on a post at the left of the picture, hangs limp, though still in fact alive, in a manner that has prompted several critics to mistake the image as one depicting a lynching in the Deep South. This horrific and extraordinary scene is displayed with the apparent calm detachment and documentary objectivity of a real estate photograph or image from a holiday brochure. Composed in such a way that the pole on which, the dying Mr. Hubbard is impaled, intersects the picture frame roughly in accordance with classical rules of landscape painting and so as to balance the dramatic horizontal of the burning car, the eye of the photographer has, unconsciously no doubt, fitted the physical details of this tragedy into a standard and visually pleasing formal arrangement. Something of the stability and calm of the composition is reiterated by the background scenery in which the sleepy suburban landscape, remains seemingly undisturbed and unchanged by the horrific incident taking place in the foreground. At the heart of this is the nonchalant figure of a man, hands in his pockets, seemingly unconcerned, sauntering past the scene on the other side of the sidewalk. He is apparently oblivious to the nightmare of death and destruction taking place only a few yards away from him.

This extraordinary contrast, captured in this photograph, between the mundane normality of everyday suburbia and the exceptional violence and tragedy that periodically strikes at its heart pictorially describes exactly what Warhol wished to express in the Death and Disaster series about the extraordinary tragedies and horrors occurring to ordinary people on a daily basis. Extraordinary tragedies and events that 'go by', Warhol said, completely unnoticed. It was no doubt for this reason that, in this work alone of the five 'burning car' crash paintings, Warhol has concentrated on the specific part of the photograph showing the impaled figure and the passer-by, repeating this segment of the source photo in a triple sequence both at the centre and in the bottom row of the painting.

Emulating the effect of a stuttered filmic sequence, this film-shutter-like run of repeated imagery, throws the horror of the impaled man and the extraordinary complacency of the nonchalant figure strolling past him straight at the viewer in an almost accusatory way. Can we, the spectator, the painting seems to ask, really adopt a similarly blind attitude to such horror as that of the walking man going on his way oblivious to all around him? Here, the rippled emphasis of the repeated image does not diffuse the horror of the painting's imagery but compounds it. The fact that this painting was made at a time, in the early 1960s, when political conscience was becoming a central question of the New York intelligentsia only makes this image more prescient and indicative of its time. Indeed, in Warhol's hands, such is the power of this weird, banal and horrifying image to invoke questions about the moral complacency of a middle-class America that it seems more than coincidence that it was made at precisely the same time that Hannah Arendt's report on the 'Banality of Evil' was being serialised in the New Yorker magazine.

Painted sometime in either June or July of 1963, Green Car (Green Burning Car I) was one of the first paintings that Warhol made with the help of his new assistant Gerard Malanga. It was made as part of Warhol's preparation for his winter show at the Sonnabend Gallery in Paris. This exhibition Warhol originally intended to be called "Death in America," and was to include images of the darker side of the U.S. in the aim of pleasing the French intellectuals whom Warhol had been led to believe would not welcome his earlier "Pop" images drawn from the country's overtly consumerist culture. With its central image of disaster taking place in the heart of an all-American suburban landscape, Green Car Crash (Green Burning Car I) was one of the key paintings to be exhibited at this exhibition which subsequently opened to much acclaim in Paris in January 1964.

Like so much of Warhol's work Green Car Crash (Green Burning Car I) is a deeply incisive mirror of its time. Much more than a painting of a mere road accident, the painting with its sequential progression of silkscreened images seeming like razor thin slices of reality laid and overlaid upon one another, seems to present a panoply of mayhem and violence taking place in the suburban heart of America. Anticipating the troubled and turbulent path that middle-America would take throughout the 1960s, the painting is, like much of Warhol's work, deeply prophetic in the sentiments and atmosphere it projects.

Calvin Tomkins once described Warhol as "a rather terrifying oracle" who, in the 1960s, "made visible what was happening in some part to us all" ("Raggedy Andy" by Calvin Tomkins cited in Andy Warhol, exh. cat., Van Abbemuseum, Eindhoven. 1970. p. 10). Green Car Crash (Green Burning Car I) is a work that reveals Warhol seeming to stare at the synthetic surface of reality and peeling its layers off to reveal a deeper and more disturbing truth lying beneath it. Like veils or synthetic screens of reality, the layered images that combine to form this extraordinary painting seem to outline an innate and disturbing division underlying even the most mundane, ordinary and respectable reality. The more you look, the painting seems to suggest, the more things are not what they seem. It is the same sentiment that Warhol returned to when talking about suburban America in his 1985 book entitled America.

"You see houses everywhere, the green lawns with the sprinklers, the jungle gyms in the backyards, the kids riding their bikes to school, the mailman coming by with a smile, a woman unloading bags of groceries from her station wagon, and you can't help but think, 'This is the real America.' You imagine that everyone around who you haven't seen in a long time is living this very regular humdrum life that's peaceful...But then you start learning the details. You find out the nice man who always had an extra piece of gum to give you has gone completely off his rocker and killed his wife, that the ex-minister of the church you grew up in is now a big drunk who's totalled three cars. You learn that your best friend's parents who were always so great are getting a divorce, that the woman who you always thought the most ordinary housewife ran off with another man from Canada. You find out that the girl you had a crush on in elementary school is now a religious fanatic living in India with a bald head...Nobody in America has a normal life" (Andy Warhol cited in America, New York, 1985, p. 176).

Artist Andy Warhol
Title Cowboys and Indians; Kachina Dolls
Medium Screenprint on Lenox Museum Board.
Year 1986 Size 36" x 36"
Edition Edition of 250, 50 AP, 15 PP, 15 HC, 10 numbered in Roman numerals, signed and numbered in pencil lower left. There are 36 TP signed and numbered in pencil, containing the following four addirional prints: War Bonnet Indian, Buffalo Nickel, Action Picture, and Sitting Bull. The TP of Kachina Dolls are signed and numbered in pencil lower right.
Printer: Rupert Jasen Smith, New York
Publisher: Gaultney, Klineman Art, Inc., New York
PRICE: 36.000,-USD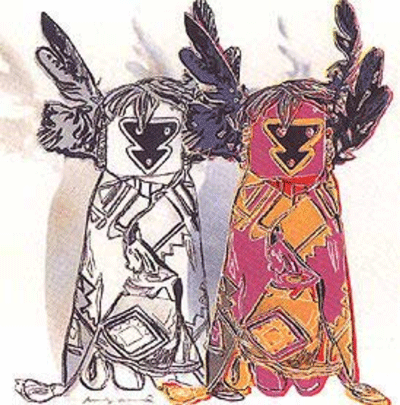 Artist Andy Warhol
Title Marilyn Monroe
Medium Screenprint on white paper.
Year 1967
Size 36" x 36"
Edition Edition of 250, signed in pencil and numbered with rubber stamp on verso; some signed in ball-point pen;some only initialled on verso; some dated. There are 26 AP, signed and lettered A-Z on verso.
Misc. Portfolio of 10 screenprints.
Printer: Aetna Silkscreen Products, Inc./Du-Art Displays,New York
Publisher: Factory Additions, New York
PRICE: 2.320.000,-USD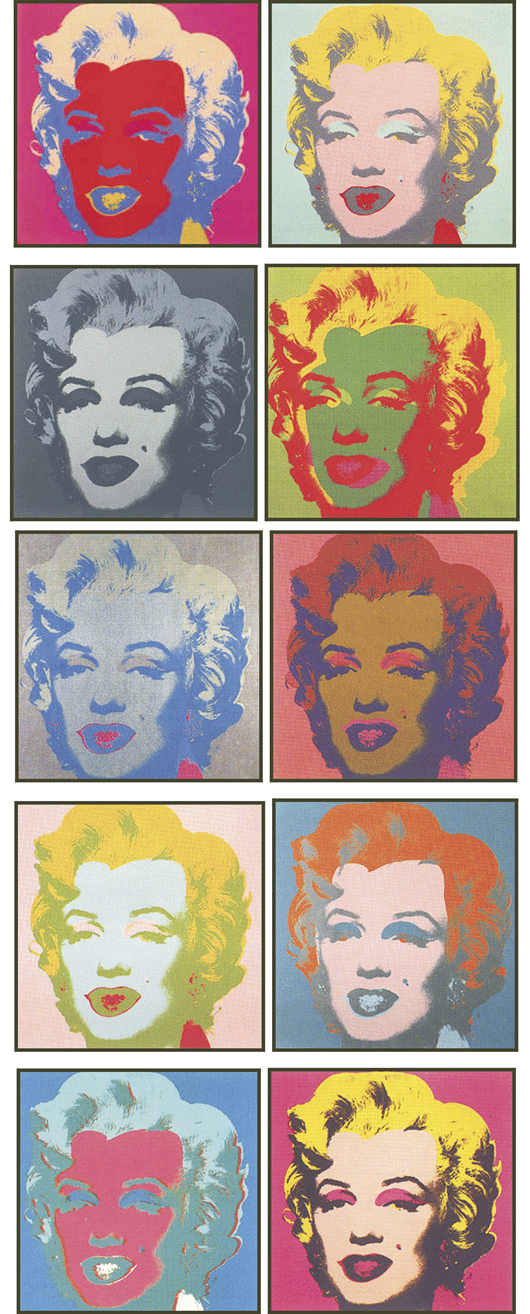 ---
Artist Andy Warhol
Title Ladies and Gentlemen
Medium Screenprint on Arches paper.
Year 1975
Size 43.5" x 28.5", image approx. 33.5" x 26.5"
Edition Edition of 125, 25 AP, 1 PP,signed, numbered and dated '75 in pencil on verso.
Misc. Portfolio of ten screenprints.
Printer: Alexander Heinrici, New York
Publisher: Luciano Anselmino, Milan, Italy
PRICE: 100.000,-USD

---
Artist Andy Warhol
Title Campbell's Soup II
Medium Screenprint on white paper.
Year 1969 Size 35" x 23"
Edition Edition of 250, signed in ball-point pen and numbered withrubber stamp on verso. Ther are 26 AP, signed and lettered on verso.
Misc. Portfolio of 10 screenprints.
Printer: Salvatore Silkscreen Co., Inc., New York
Publisher: Factory Addition, New York
PRICE ( portfolio ) : 460.000,-USD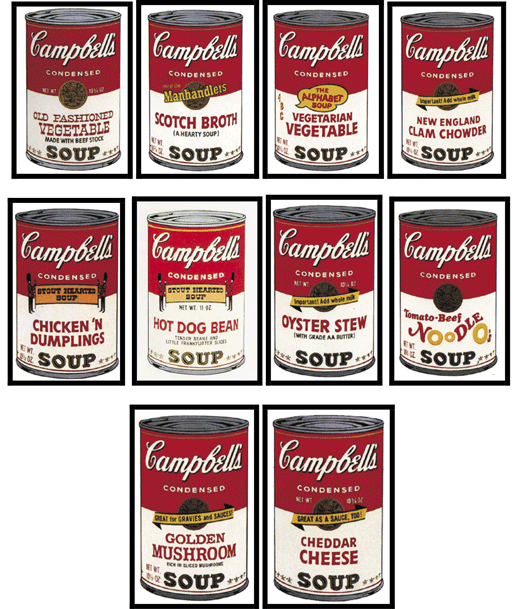 ---
Artist Andy Warhol
Title Kimiko
Medium Screenprint on Stonehenge paper.
Year 1981
Size 36" x 36"
Edition Edition of 250, 50 AP, signed and numbered in pencil on verso.
Misc. Published to raise funds for a special Visual Arts Program sponsoring visiting artists and exhibitions at Colorado State University.
Printer: Licht Editions, Ltd., Denver
Publisher: Colorado State University, Department of Art, Fort Collins
Price: 25. 000,- $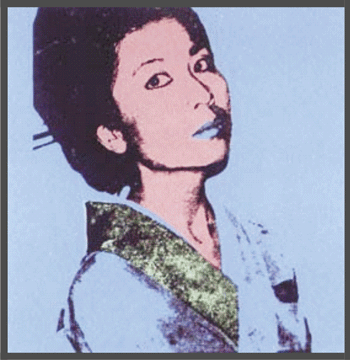 ---
Artist Andy Warhol
Title Cowboys and Indians; Northwest Coast Mask
Medium Screenprint on Lenox Museum Board.
Year 1986 Size 36" x 36"
Edition Edition of 250, 50 AP, 15 PP, 15 HC, 10 numbered in Roman numerals, signed and numbered in pencil lower right. There are 36 TP signed and numbered in pencil, containing the following four addirional prints: War Bonnet Indian, Buffalo Nickel, Action Picture, and Sitting Bull. The TP of Kachina Dolls are signed and numbered in pencil lower right.
Printer: Rupert Jasen Smith, New York
Publisher: Gaultney, Klineman Art, Inc., New York
PRICE: 25.OOO,-USD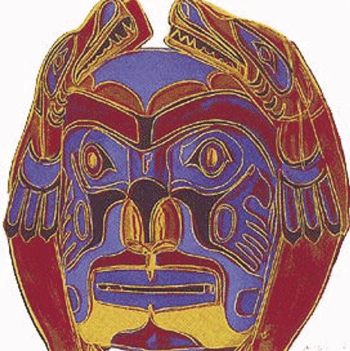 In the last year, the value of Andy Warhol´s works
has increased by 50 - 200 %.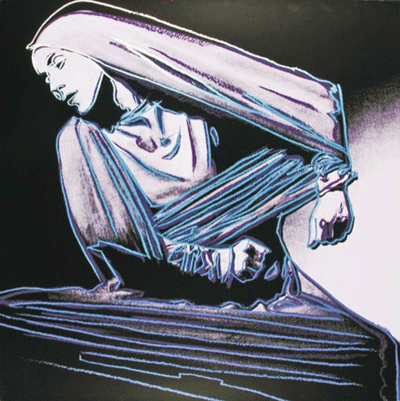 Andy Warhol, Lamentation #388 (Martha Graham), hand-signed screenprint, image size: 36 x 36 inches, gallery pricing: $24,850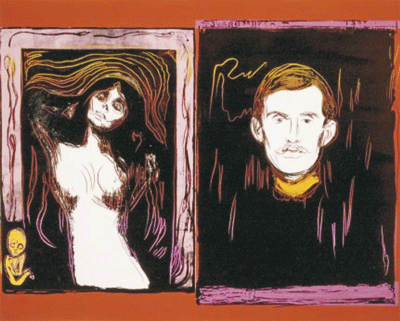 Andy Warhol, Madonna & Self-Portrait with Skeleton's Arm (After Munch), 1984, unique screenprint, image size: 32 x 40 inches, gallery pricing: $98,500

Ivan Gašparovič is the first president to visit an exhibition opening of Andy Warhol's works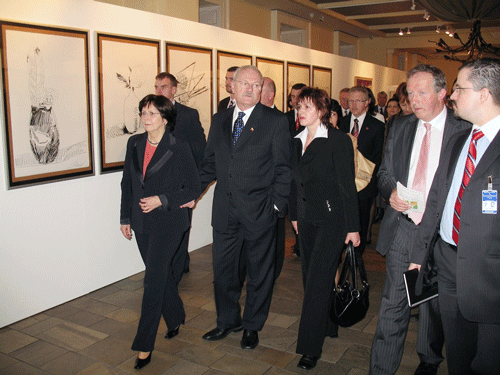 In the picture by M. Sirík (from the left): the first lady of the Slovak Republic Sylvia Gašparovičová; Ivan Gašparovič, the President of the Slovak Republic; Valika Maďarová, the Director of the Andy Warhol Museum of Modern Art and other guests looking at Andy Warhol's works at the gala opening of the exhibition in Dublin.
President Ivan Gašparovič at the gala opening of an exhibition showing works by Andy Warhol, a world-known artist of Rusyn descent, in Dublin, the capital of Ireland, on March 27th, 2007 (in the background, the most famous portrait by Andy Warhol)
Photo: Miroslav Sirik
On March 27th, 2007 in the Dublin Castle museum in Ireland, the President of the Slovak Republic, Ivan Gašparovič, opened an exhibition of Andy Warhol's works. The exhibition was curated by Dr. Michal Bycko, PhD. and Mgr. Martin Cubjak and prepared by the Andy Warhol Museum of Modern Art (AWMMA) and the Andy Warhol Association in Medzilaborce, in cooperation with the Embassy of the Slovak Republic in Ireland. President Ivan Gašparovič, according to available sources, is the first president of a sovereign state outside of the USA, to personally take part in an exhibition opening of work by this significant artist of the second half of the 20th century. The fact that the roots of this uncrowned king of pop-art lie in Slovakia, in the Rusyn village of Miková (from where his Rusyn parents left to look for work in the USA) makes it even more significant. The exhibition is entitled "ANDY WARHOL – HIS SLOVAK ROOTS"
The exhibition will run until April 27th, 2007 and on May 1st, 2007 will be reinstalled in the Cork Public Museum.
Iveta RUSINKOVÁ, Curator of AWMMA in Medzilaborce, March 30th, 2007

ANDY WARHOL

DUBLIN CASTLE
MARCH 27, 2007
–
APRIL 27, 2007


CORK PUBLIC MUSEUM
MAY 1, 2007
–
MAY 27, 2007

The Embassy of the Slovak Republic
20 Clyde Road
Ballsbridge, Dublin
It is really a special occasion to introduce to the Irish public the work of Andy Warhol – a famous artist with Slovak roots. After an exhibition dedicated to the world known politician Mr. Alexander Dubček in Trinity College two years ago and after the exhibition devoted to the life of the founding father of Slovakia, a General of French Army Mr. Milan Rastislav Štefánik in Aliance Francaise in Dublin last year, we have now an unique opportunity to bring to the Dublin Castle the spirit of the king of pop art Andy Warhol. It is also our privilege to highlight through this exhibition the first official visit of the President of Slovakia His Excellency Ivan Gasparovic to Ireland.
Little Andy was born to Slovak parents after they had moved to the United States of America as millions of other families did. The family of little Andy lived in Pittsburgh where at the beginning of the last century a very large community of Slovaks lived for obvious reasons – picturesque landscape of Pennsylvania reminded our Slovak grandparents of their Slovak homeland and there was a lot of work opportunities – namely hard work in the coal mines. After his studies of art at Carnegie Mellon University in Pittsburgh young Andy moved to New York where he started to develop fully his creativity. Andy Warhol brought a very revolutionary approach to all genres of art he had touched – painting, sculpture, photography, music, film, fashion, literature. He, somehow, tried to synchronize the art with the modern time influenced by consumerism he lived in – we may say he helped define that time. In 1960 he founded the famous "Factory", gathering around himself a wide range of artists and friends like sir Mick Jagger, Liza Minelli, John Lennon, David Bowie, Diana Ross, Brigitte Bardot, later also Michael Jackson. Throughout the decade it became more and more clear that there had been profound change in the culture of the art world, and that Warhol was at the centre of that shift. Let us mention just a few of his famous works – Campbells Soup Cans, Coke Bottles, Disaster painting and portraits of celebrities like Mick Jagger, Marilyn Monroe and Elvis Presley.
During his life Andy Warhol has achieved something that many artists dream of but few get to. He became an icon of a new brand of art – pop art. Some people say he was weird, well from certain point of view he definitely was. But it is not true that great artists create their own world where our optic simply don´t match? Andy Warhol became celebrity already during his lifetime also thanks to his popular quotes. He said that "In the future everyone will be world-famous for 15 minutes". Well, this maybe true for everyone but surely not for Andy Warhol, his world fame has definitely exceeded 15 minutes.
Ten years ago, during my posting at the Embassy of Slovakia in the US, when I visited Andy Warhol Museum in Pittsburgh – the largest American art museum dedicated to a single artist - I told myself it would be nice to promote the Slovak roots of the king of pop art. Several years later after Slovakia had joined European Union during Irish presidency I promised to my Irish friends to bring Andy Warhol to this beautiful country. I am very pleased that we have got this exhibition here and that we can extend the exhibition also to the City of Cork that gave a warm welcome to my country on its way to the Union.
Ján Gábor
Ambassador of Slovakia in Dublin


Andy Warhol was born Andrew Warhola on August 6, 1928, in a two-room shack-like apartment at 73 Orr Street in the working class neighborhood of Soho in Pittsburgh, Pennsylvania, to Andrej Warhola and Julia Zavacky Warhola. The youngest of three sons, Andrew attended Holmes Elementary School and Schenley High School, and entered Carnegie Institute of Technology (now Carnegie Mellon University) in Pittsburgh in 1945, where he studied with Balcomb Greene, Robert Lepper, Samuel Rosenberg, and others. He experimented with his name, signing holiday cards "André," and dropping the final "a" from his family name. He graduated in June 1949 with a Bachelor of Fine Arts degree in Pictorial Design.

Soon after graduating, Warhol moved to New York City to pursue a career as a commercial artist. His first work appeared in Glamour magazine in September 1949. Throughout the 1950s, he became one of the most successful illustrators of his time, and won numerous awards for his work from the Art Directors Club and the American Institute of Graphic Arts. His clients included Tiffany & Co., The New York Times, I. Miller Shoes, Bonwit Teller, Columbia Records, Harper's Bazaar, Vogue, Fleming-Joffe, NBC, and others. Much of his commercial work was based on photographs and other source images, a process he would use for the rest of his life. He also employed the delightfully quirky handwriting of his mother Julia in many of his works in this period. She won a professional award for her lettering on the LP The Story of Moondog in 1958, and Warhol published a book of her drawings, Holy Cats, in 1957. She was always credited as "Andy Warhol's Mother." She left Pittsburgh in 1952 to join her son, and they lived together until about 1971. Warhol painted memorial portraits of her after her death; he also had made a film and shot videotapes of her.
Credit: Hulton Archive/Getty Images
In 1956 Warhol traveled around the world for several weeks, visiting many countries in Asia and Europe. In the late 1950s he began to devote more energy to painting. He made his first Pop paintings, based on comics and ads, in 1961, and then a series of Campbell's Soup Cans in 1962. These created a sensation in the art world and launched Warhol as a celebrity. Except for a brief period in the mid-1960s, he would continue to paint until the end of his life. He also extended his talents into other fields such as film, publishing, writing, television, and music. By the time of his death, he was one of the most prolific and well-known artists the world had ever seen.

Warhol had a life-long fascination with Hollywood. In 1962 he began a large series of celebrity portraits, including Marilyn Monroe, Elvis Presley, and Elizabeth Taylor. He also began his series of "death and disaster" paintings at this time - images of electric chairs, suicides, and car crashes.

In 1963 he began to make films, and created many classics of avant-garde cinema over a five-year period, including Sleep (1963), Empire (1963), Kiss (1963-64), and The Chelsea Girls (1966). Warhol made about 600 films from 1963 until 1976, ranging from almost 500 short Screen Tests (4-minute portrait films, from 1963-1966), to **** (a/k/a Four Stars, 1967-68), a twenty-five-hour long film. Between 1968 and 1976, Paul Morrissey directed most of his films, while Warhol was the producer.

Warhol's first exhibition of sculptures was held in 1964, with hundreds of replicas of large supermarket product boxes, including Brillo Boxes, Heinz Boxes, Del Monte Boxes, Mott's Boxes, and Kellogg's Boxes. By this time, his new studio, painted silver and known as the Factory, was becoming the place to be in New York; parties held there were mentioned in gossip columns throughout the country. By the mid-1960s he was a frequent presence in magazines such as Newsweek, Time, and Esquire.

In 1965, Warhol was the first artist to exhibit video as art. He loved its immediacy, and eventually filled about 2500 videotapes, including Factory Diaries, Phoney, and others.

At an exhibition of his Flowers paintings in Paris in 1965, Warhol publicly announced that he was retiring from painting to pursue filmmaking, although he continued to make editions of fine art prints, and also sculptures. However, he began painting again in 1966. He broadened his activities into the realm of performance art with a traveling multimedia show called The Exploding Plastic Inevitable, which featured the rock and roll band The Velvet Underground. The EPI has been credited by some with the invention of the psychedelic light show as nightclub entertainment. The Velvet Underground went on to become one of the most influential rock bands in history. During this time, Warhol briefly operated a dance club in Manhattan called the Gymnasium, which featured exercise equipment on the dance floor.

In 1966 Warhol exhibited Cow Wallpaper and Silver Clouds at the Leo Castelli Gallery. The Cows were Day-Glo colored, and the Clouds were floating silvery balloons shaped like pillows. Warhol covered the exterior of Stockholm's Moderna Museet with Cow Wallpaper in 1968.

On June 3, 1968, Valerie Solanas, a writer who had appeared in Warhol's film I, a Man (1967), came into the studio and shot Warhol in the chest, apparently because of a play she had written. He recovered from the near-fatal shooting after a five-hour operation. While recuperating he painted a large series of portraits of Happy Rockefeller, the wife of the Governor of New York.
Andy Warhol and Mario Montez on the set of "Chelsea Girls"
Credit: Hulton Archive/Getty Images
Warhol self-published a large series of artist's books in the 1950s, but his first mass-produced book, Andy Warhol's Index (Book), was published in 1967. He later published a, a novel (1968), Blue Movie (1970), THE Philosophy of Andy Warhol (From A to B and Back Again) (1975), POPism (1980), Exposures (1979), Children's Book (1983), and America (1985). Party Book (1988), and The Diaries of Andy Warhol (1989) were published posthumously, with the latter becoming a scandalous best-seller. Beginning with a, the technique for most of his writings was transcribed recorded conversations. This method was also used for Warhol's stage play, Pork, produced in London and New York in 1971. In total, he recorded about 3400 audiotapes.

Warhol closed the 1960s with an unusual exhibition, Raid the Icebox I, which he was invited to choose from the collection of the Rhode Island School of Design's museum. Rather than the usual masterpieces, Warhol chose damaged paintings in the process of being repaired, the entire collection of historical footwear and parasols, and other unexpected items. At the time, he was developing a very keen eye for antiques; among his discoveries were French Art Deco designs, Native American blankets and pottery, and American Folk Art and cookie jars. Also in that year he co-founded Interview, a magazine devoted to film, fashion, and popular culture that continues to this day. Warhol's quote, "In the future everybody will be world famous for fifteen minutes," is known throughout the world, and originated in about 1967 or 1968. Interview testified to Warhol's lifelong obsession with film stars and other contemporary celebrities.

In 1971 Warhol co-designed the cover for The Rolling Stones' album Sticky Fingers, featuring a close-up photo of the torso of a man wearing blue jeans with a real working zipper. The design was nominated for a Grammy Award. He designed many music LP covers before, beginning in 1949, but in the 1970s he received many more commissions for these designs, which usually consisted of a painted portrait of the recording artist. His commissioned portrait paintings began in 1963, with portraits of the collector Ethel Scull, entertainer Bobby Short, and others.

Throughout the 1970s, Warhol frequently socialized with celebrities such as Jackie Kennedy Onassis and Truman Capote, both of whom had been important early subjects in his art. He started to receive dozens-and soon hundreds-of commissions for painted portraits from wealthy socialites, music and film stars, and other clients. He was a regular partygoer at Studio 54, the famous New York disco, along with celebrities such as fashion designer Halston, entertainer Liza Minnelli, and Bianca Jagger.

The 1970s was also a period of experimentation for Warhol. He made 3 versions of a sculpture called Rain Machine (Daisy Waterfall) for the Osaka World's Fair in 1970. These consist of a large shower of water in front of a wall of 3-D lenticular prints of daisies. In the mid-1970s he experimented with an idea for an Invisible Sculpture, made of motion detectors and loud sirens. In 1978, he produced a large series of works called Oxidation paintings, made with human urine on canvases covered with metallic paint. The chemical interaction produced beautiful abstract shapes, in contrast to their shocking medium. Warhol also worked on several ideas for television shows at this time, as well as art works in video, including Water and Fight.

In 1974, Warhol started a series of Time Capsules, cardboard boxes that he filled with the materials of his everyday life, including mail, photos, art, clothing, collectibles, etc. The Time Capsules eventually numbered over 600, and are now an archival goldmine of his life and times. From the 1970s onward, Warhol continued to produce a prolific number of paintings, prints, photographs, and drawings: Mao, Ladies and Gentlemen, Skulls, Hammer and Sickles, Shadows, Guns, Knives, Crosses, Dollar Signs, Zeitgeist, Camouflage, and many more, culminating in his series of Last Supper paintings, which were shown in Milan in early 1987. He returned to the idea of wallpaper as art, creating Mao (1974), Self-Portrait (1978), and Fish (1984) wallpapers. Fish was part of an environmental work, Paintings for Children, in which his small paintings of Toys were hung at a child's eyelevel on the wallpaper. His Sewn Photos (multiple prints of identical photos sewn together in a grid) were exhibited in New York in January 1987.
Andy Warhol with Edie Sedgwick.

Credit: Hulton Archive/Getty Images
In the mid-1980s his television shows, Andy Warhol's Fifteen Minutes and Andy Warhol's TV, aired nationally on MTV and on Madison Square Garden cable television in New York. He created work for Saturday Night Live, and appeared in an episode of The Love Boat. He produced music videos for rock bands such as The Cars, and signed with the modeling agencies Ford and Zoli. He modeled in fashion shows, and in numerous print and television ads for Sony, TDK, Vidal Sassoon, and many other companies.

In 1984, Warhol collaborated with young artists Jean-Michel Basquiat, Francesco Clemente, and Keith Haring on artworks. Warhol returned to painting with a brush in these, briefly abandoning the silkscreen method he had used exclusively since 1962. Nearly all of Warhol's works in every medium were created with the help of friends (beginning with writer Ralph Ward, and the crowd at Serendipity 3 café in the 1950s), paid assistants (beginning with Vito Giallo and Nathan Gluck in the 1950s), and managers such as Fred Hughes. Of all of these, the best known are the Superstars - the "underground" actors of his films of the 1960s such as Taylor Mead, Baby Jane Holzer, Ingrid Superstar, Brigid Polk, Edie Sedgwick, Ondine, Viva, Joe Dallesandro, Candy Darling, Jackie Curtis, and many others.

Warhol died in New York City on February 22, 1987, due to complications following surgery to remove his gall bladder. In 1988, a ten-day auction of his enormous estate of art and antiques raised over 20 million dollars for The Andy Warhol Foundation for the Visual Arts. The Andy Warhol Museum was announced in 1989, and opened in Pittsburgh in 1994.
-by Matt Wrbican, Archivist, The Andy Warhol Museum in Pittsburgh

---
Mgr. Valika MAĎAROVÁ, director of the museum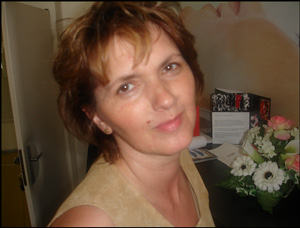 Declaration:
"This is another moment to stop and remember the times when the idea of the museum establishment was born. Every thought is a seed of a deed and that is why the thought needs to be strengthened by will power, so that it became a clear idea and finally a deed.
The inner ambivalence of wanting and, at the same time, not wanting something is usually a serious obstacle when trying to achieve will power and life success.
The oft repeated and world-known phrase of Andy Warhol "I come from nowhere," is a reply to a question about his roots. Slovakia has been linked with the name of this genius in art for over fifteen years. Thanks to the fame of the artist, which has not fallen silent even after we have moved to the 21st century, the world is also starting to be aware of Slovakia. This can be assumed from the attendance of tourists and admirers from various parts of the world. After all, it concerns an artist, the roots of who are definitely in Slovakia, and what is important, he opened a new point of view of the world as well as the way of understanding our, then, 20th century.
Well, who would not like to be respected by those, whom he is in touch with? We all desire for our true value to be fully appreciated. We need to feel we are important in our small world. We do not want cheap compliments, insincere sweet talk, but we long for genuine appreciation. The lives of many people would probably have run quite different courses if someone showed them their importance.
The Museum of Modern Art in Medzilaborce deals with the roots, life and work of Andy Warhol, as they appear in the light of documented facts and not some conjecture. A visitor or an art critic can, of course, have various requirements. It depends what his taste tells him.
The museum continues in its acquisition work and even extends it to the forms of gifts and purchases. My genuine thanks go to the leadership of U.S. Steel Košice for their sponsorship gift of the portfolio "Ladies and Gentlemen"; to the former Prime Minister of Slovakia Mikuláš Dzurinda for providing the grant from the Government Office of the Slovak Republic in Bratislava for purchasing A. Warhol´s work "Kimiko"; to the ambassadors of the Slovak Ministry of Foreign Affairs for the financial donation, thanks to which the purchase of the trilogy " As I Opened Fire" by Roy Lichtenstein could be realised; to Mirko Kaliňák, the Mayor and a member of the Town Council of Medzilaborce for the financial contribution for the purposes of Andy Warhol´s original work "Electric Chair " and to Dr. Peter Chudík, the head of the Prešov Self-Governing District and a member of the Representative Group of the Prešov Self-Governing District for purchasing the precious portfolio of A. Warhol´s works "Flowers (Black and White)".
It needs to be said that a lot has been written about Warhol and also about his many friends and relatives – the well-known ones, those half-forgotten and even those completely unknown. I am sure that many others will write about him as time goes by and it looks as if Andy was walking alive by our side. Every publication will probably be different from the previous ones. It is delightful that everybody can take a pen and blank paper and, as a sign of respect, try to write their own declaration."
Michal BYCKO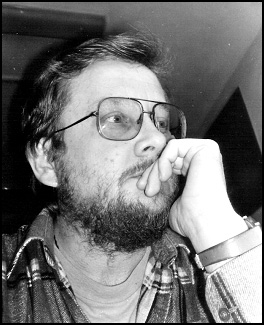 PaedDr. Michal BYCKO, PhD., F.A.B.I.
the Deputy-Director of the museum, the main curator, museum-educologist, an art theoretician and critic, the author of six monographs, dozens of academic articles on contemporary art, museum and gallery activities and museum-educology (focused on perception, suggestion and manipulation in art). A member of the American Biographical Institute in the USA (F.A.B.I.).
Declaration:
"If you want something not to work, set up a committee!"
"That is what it also looked like when the idea of founding the Andy Warhol Museum in Slovakia (!) was being realised. An amazing fact in our world is that the most intelligent creature – man – is so flexible and adaptable ...that what he spat on yesterday; today he is ready to pin on his chest as a badge.
Andy, discredited before 1989, today has become the tool of "boast" of primary, secondary and tertiary clerks, who, until the "Velvet" revolution, did not have a good word to say about him. History is a very shaky witness to the status quo of the time and the "stronger dog is always right...". But we have not gone stupid, speechless or blind and, thanks to God, we are alive and can witness the truth, which is – if there was not for the absolute truth, which is unachievable for us – now plain to see. The question is, and I would say that´s what it depends on; how many of us who know the truth about the whole "Golgotha-like" foundation of the Andy Warhol Museum of Modern Art (AWMMA) in Medzilaborce, who witnessed the days in the mist of the lies and the Satanic offers in the future" ... will close like a rotten door" and deny themselves. Because, in the words of my late father: "If you want to see a real beast, give a human indefinite power!". I am not sure whether the mirror of the truth, which will be interpreted by someone, will not be a "curved mirror "shoed by the force of the power of the "real beast ".
I am glad that today, the risky truth was taken by a young and unburdened man, who has worked hard and de facto and de jure built the truth about the establishment of the AWMMA and its work, bravely facing us and himself. That he wrote the real truth is most important. Even though "cheerleaders" of delusions of grandeur will continue in brainwashing lax brains of the supporters and consumers of tabloids, that they are "God's soldiers", they will give "birth" to new names, which they will paint with "fame" and "credit" for nothing.
Štefan MAŽERIK, I would like to thank you also on behalf of John Warhol, Vlado Protivňák, Alexander Zozuľak, Michal Turok, Vladislav Grešlík and the whole small group of people, who have either with or without fear stood by our side and supported our idea to establish the museum. It is not easy for me to write words which smack of boasting. But let it be! Important is that you have written the TRUTH. It is also your notional "15 minutes of fame ".
Similarly, I would like to thank Mrs Iveta RUSINKOVA for her tireless work in documenting the years of "15minutes of fame" so exhaustively like nobody had ever done. The notional "15 minutes of fame" is hers, too.
Let me thank all my contemporary and former colleagues, who worked in AWMMA either for a short or a longer period of time. I consider the presence of each of them a tile in a mosaic of our Institution´s "existence ".
And thus, Our Father, Andy, John, Paul, Fred, Archibald, Joel, Evelin, Pamela, Tim, Vincent, Billy, Riva, Mark, Jeffrey, Danny, James, Jiří, "Agnes", Saša, Michal, Ivan, Eugen, Vlado, Dano..., but also you, dad and mum, and my family ... THANK YOU! If it was not for your will, willingness and support, there would not be 15 years of the museum. I SINCERELY WISH IT TO KEEP BEING STRONG AGAINST DILETTANTES AND NICE TO THOSE WHO KNOW THAT TO BE A TRUE MAN MEANS TO HAVE SPIRITUAL VALUES AND DIMENSION!"
Alexander ZOZUĽÁK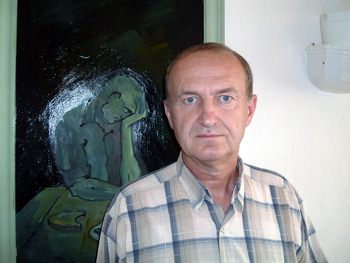 They have "enticed" the world to Medzilaborce
The Vice-President of the Andy Warhol Association, an establishing member of AWMMA in Medzilaborce and the Rusyn Revival. He works as a journalist and editor-in-chief of Rusyn periodicals and non-periodicals. One of the most significant personalities of the Rusyn Revival in Slovakia after1989, the Deputy of the World Council of Rusyns who is the chair of other Rusyn organisations and institutions. A working artist.
Declaration:
"Who? Especially three people: Andy Warhol, John Warhol and Michal Bycko. It is mainly they to who appropriate gratitude goes today. Thanks to them, Medzilaborce has become world-famous and today, after 15 years of the AWMMA's existence, many art fans and tourists from abroad know about it. They would never look for such a town as Medzilaborce on the map, they would never visit it, they would never know that there are some Rusyns and that the most famous Rusyn in the world is no one else but Andy Warhol, whose parents were Rusyns and came from a nearby Rusyn village on North-East of Slovakia – Mikova. Warm thanks to you three for that!
That a museum with Andy Warhol's works and artefacts in Medzilaborce was the first to be established, is a fact not appropriately respected and appreciated by many Rusyns from the homeland and abroad as well as other inhabitants of Slovakia, which is sad. Good evidence of this is the museum's Visitor's Book, which shows that the stand of modern art of the world-famous representative of pop-art is more often visited by foreigners than local people, which is sorrowful, but it also confirms the following saying: "You will never be a prophet at home!" Unfortunately. However, I believe that the young generation will at least partly correct the saying by an increased interest in the unique museum of Medzilaborce and the personality of Andy Warhol as well as the effort and work of Michal Bycko, the establisher of the museum and the Andy Warhol Association.
Speaking of the foundation of the Andy Warhol Association and the idea of establishing a museum of Andy Warhol's art nowhere else but in Medzilaborce; on this festive occasion of the 15th anniversary of the AWMMA, I must also "blow my own trumpet". But not in the way many people unworthily do nowadays, but truthfully and accurately. I have to admit that I was also present at John Warhol's (Andy Warhol's brother) first visit to Medzilaborce and his parents' birthplace in Mikova. His dream came true also on behalf of his already late brother. It happened at the visit of Vladimír Protivňák's relatives, where, together with him, it was also the two of us visiting – Michal Bycko and myself. On the same occasion, such an idea was born as to, with the help of John Warhol and the Andy Warhol Foundation in the USA, establish the museum nowhere else but in the Rusyn centre, which is the town of Medzilaborce; and not in such big cities as, in the times of Czechoslovakia, Bratislava or Prague were. Michal Bycko not only suggested the idea to John Warhol, but also, with the help of several supporters, realised! (Then, I could take part not only as an art enthusiast, but also as a journalist and interview John Warhol for the first time, as well as to pass the news about the unique intention to establish an Andy Warhol Museum in Medzilaborce to, at least, the Rusyn "world".) And it has always been M. Bycko, who is the heart of the museum. And that is why, on my behalf and behalf of the Rusyn organisations and institutions that I represent, such as the World Congress of Rusyns, the Academy of Rusyn Culture in the Slovak Republic, the Slovak Association of the Rusyn Organisations and Rusyn and Ľudové Noviny Press; I would like to say the following: "Вдяка Ті, брате-Русине, лем вытрим дале в зачатій і зреалізованій роботї, бо без сердця умерать тїло, а то все є велика страта. Дякую Ті, же єсь "притягнув" світ до русиньскых Міджілаборець." (Thank you, brother Rusyns, keep doing the work you have been doing, because the body would die without the heart, and that would be a great loss. Thank you for bringing light to the Rusyn Medzilaborce.)
Michal ŠMAJDA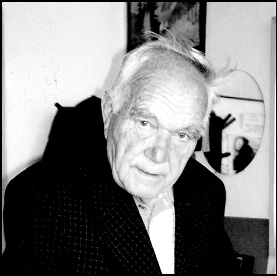 Warhol and Medzilaborce – "the land of dreams and the reality "
A novelist, folklorist and an ethnographer. He published dozens of monographs (novels, short stories, academic studies...). The establisher of the Museum of Rusyn-Ukrainian Culture in Krásny Brod (when established, it was called the Museum of Ukrainian Culture).
He lives and works in Krásny Brod near Medzilaborce.
Declaration:
In the history and presence of every land, ethnic group and nationality, there are personalities who form the "mark" of its spiritual quality. The Rusyns are a dying-out nation, which has, for the centuries, lived in the regions of Slovakia, Poland, Ukraine, Romania… where the Rusyn, Lemko, Boyko and Hocul ethnic groups are living nowadays. Andy Warhol was the fruit of love of two modest and poor people - Andrej Varchol and Júlia (Ula) Zavacka. He was born far away from his parents' fatherland, but his parents presented him with a piece of the fatherland in form of genes, upbringing, belief and traditions; so that it stayed in him for his all productive life. A simple boy of Rusyn parents from a peripheral part of Pittsburgh, achieved the Olympus of Fame in art and forever obtained a brightly twinkling star in the sky of the fame.
Dr. Michal Bycko said that Pittsburgh to New York is like Medzilaborce to Prague. It is said that everything repeats this. Andy who came from Pittsburgh, conquered fame in New York, the Mecca of art, so that he could come back, for the eternal peace, to the Rusyn cemetery in Pittsburgh. As a tribute, the town has founded a museum (The Andy Warhol Museum). However, even before then, thanks to John Warhol and Michal Bycko, Andy could symbolically return to his parents' birthplace, when the AWMMA in Medzilaborce was established. Many of us know the almost thorny journey of the museum's founding, but no one competent has overcome himself and thought of openly declaring the credit of these two men (John and Michal). Simply, nobody has thanked them in public. Apart from Prof. Stadtrucker, who, 15 years ago in the Weekly Magazine of Literature, expressed his gratitude. Since, as if we all have gone deaf, blind, as if we have forgotten. Well, let me, an old man who has dedicated all his life to culture and art, express my gratitude.
THANK YOU, MR JOHN WARHOL, AND ALSO YOU, MICHAL BYCKO, FOR THE IMPOSSIBLE THING YOU HAVE DONE FOR THE FAME OF OUR ETHNIC GROUP AND OUR STATE IN FORM OF THE LOVELY MUSEUM OF ANDY WARHOL IN MEDZILABORCE.
I am keeping my fingers crossed for you, my dear friends, the employees of the museum, and wishing lots of health, strength and success. If it was not for your museum, this part of the world would be forgotten. It would stay only " .. in the shade of the forgotten ancestors".

---
In Medzilaborce, the pavements, car parks and the amphitheatre are being repaired because of the "painter Andrijko"; but still, the museum's roof is letting in water.

If it had not been for Warhol, there would be no museum, and if there was no museum, Medzilaborce would probably be just a nondescript town on the map of North-East Slovakia. Not even the money for its promotion would find its way there. The town is still out-of-sight, out-of-mind; but it has an extraordinary museum. It was opened fifteen years ago with great pride, and since, it has found its way into the world. Only the provincial town, the regional capital neighbouring the birth place of the king of pop-art's parents has not been successful. As if the museum and the town lived different lives. Medzilaborce, thanks to Andrijko, whose fellow-citizens speak Rusyn, has recently obtained further millions from the European foundation. They will be used in a "special" way – without creativity and originality. They will not make the town an open gallery of arts to promote it, they will rather repair what needs to be done – the pavements, a run-down amphitheatre and the car parks. And, moreover, a Warhol village will be built – some kind of mini open-air museum, of which the only connection with Warhol will probably be its name. A rather large outlay for a small return.
Mausoleum: "The museum is located at the right place, but still, not in the right time," says Michal Bycko, the curator of the museum and a museo-educologist, as his calling card says under a black-and-white portrait of the Rusyn superstar. It was he who set in motion the issue of the town of six and a half thousand inhabitants located at the North-East end of Slovakia and in 1991, together with other enthusiasts founded the Andy Warhol Museum of Modern Art. For some, until today, an incomprehensible enterprise of several fools. Michal Bycko has made his American dream reality – to have, in Slovakia, a memorial to the roots of an artist whose parents moved from nearby Mikova to America. The New York Andy Warhol Foundation presented several valuable works. At the beginning, there was nowhere to hang them, there was no interest. After the fall of communism, during which Warhol was considered an unworthy artist, everybody started to adopt him as a cause celèbre. The Poles, the Slovenians, the Czechs and the Hungarians. The truth is that Medzilaborce blindly stumbled upon Warhol. If it had not been for the socialist planners, who ordered the building of a megalo-maniacal cultural house opposite the Orthodox church, the original works would have ended up somewhere entirely different. In Medzilaborce, a building and six million Slovak crowns for its reconstruction have been set aside for the museum. The money has somehow disappeared and so the following decision has been made: the works will be hung in the cultural house, which has not even passed an initial inspection. Despite the protests of the locals, the enormous building resembling a mausoleum has become Andy Warhol's citadel. The complicated soundproofing system, which was supposed to separate a wedding party in the restaurant from a film screening, has been ripped out, bare walls have appeared and spectacular rooms have been created, into which, immediately after its opening, water began to seep. And it still seeps today. The museum can be found in every tourist guide to Slovakia. However, this is not enough to attract tourists to come to this area. Unfortunately.
Warhol City: At the municipal office Warhol is presented almost as a saviour. Not even Pittsburgh where he was born is so enamoured by him as Medzilaborce. The projects carrying his name are supposed to promote the town. At least that is what it says on paper. "Although Warhol is not a remedy for unemployment, many working positions are connected to him," says Vladislav Višňovský, the director of the first-contact centre. He also adds that "Medzilaborce, on its own, is a dump". And that is how the prodigal son, with the help of the European Union Foundation, returns to his parents' fatherland. He, while he was alive, never came to Slovakia. The first stage of the Warhol City project cost two and a half million crowns for "imaging" alone. For this money, three bus stations and six pop-art style facades were "Warholised". The town came to life in places. However, Dr Bycko as the author of the artistic proposal is not happy with the realisation. According to him, it is of poor quality. "The platforms were supposed to give out light. I proposed newsstands and a campsite in the shape of Warhol's iconic Campbell's soup tins. None of this was realised," he laments. Several facades are not enough. The whole town should flourish with Warhol; however, it does not have enough chance.
The Warhol Open Air Museum: Andy has also become the focus of the second, more difficult part of the project, for which the town has obtained thirty million crowns. However, it does not only involve the European foundation. One and a half million had to be approved by the town council from the Medzilaborce budget. The state gave a sum of six million. This is what the rules are. "It is one of a few well-thought-through projects. A ski lift can be anywhere; Warhol cannot," declares engineer Višňovský. The second stage is rather more building-oriented. The pavements, car parks will be repaired, the amphitheatre will be reconstructed and an open-air museum named Warhol Village will be built. "It will contain mini replicas of architecture typical for this region, including the church in Mikova," we learn at the municipal office. "What does it have to do with Warhol?" asks Michal Bycko expressing his dislike of the miniature village. The clerks have their own secret agenda. He, allegedly, usurps a patent on Warhol. It is true that, for a long time, their ideas on promoting the town have differed. Is it mutual silence or trench warfare? It is hard to say. At the office, they are already planning the third phase of the project. Maybe, they will also deal with the repairs of the saturated museum. It seems that the town representatives have a clear idea. "We want Medzilaborce to symbolise Andy and become attractive to tourists," says project coordinator Adrián Kaliňák. The local Romany community are also actively involved. They have already stolen the underground cables from the open-air museum that is being prepared.
What do we need Warhol for? How do the local inhabitants perceive Warhol? As a world-famous artist, a fool, lunatic, weirdo? "None of the above. They use him to boast in spas when they mention they come from Medzilaborce," Curator Bycko says with conviction. "What good is Warhol, when we do not have work?" was the legitimate question posed by Miro Hudák, a local man. He is right in his own way. He does not care much for Warhol, but he has visited the museum where the entrance fee is a hundred crowns. The first and last time, similarly to most tourists who were drawn there by the work of the king of pop art. Yearly, fourteen to seventeen thousand visitors view his work, two thirds of whom come from abroad. And there is something to admire. Apart from other things, over a hundred original works. Their value has been estimated at tens, maybe even, hundreds of millions of crowns. "It is a window through which we can view Warhol's creative body of work. A little sample of everything," declares the leadership of the museum. "Nobody for miles around has gone into Warhol's whole life and work as much as I have," says Michal Bycko antipathetically. He is 54 and Andy has become his fate. Because of him he got "stuck" in Medzilaborce and he hardly ever leaves. "I am crazy about him and now it's driving me mad," he admits, with one condition: He does not want his picture taken with Warhol or his works. The situation of Andy's double, Endi from nearby Rokytovce, is diametrically opposed.
Doppelganger Endi: Since František Lakata, an Art teacher at a Primary School in Medzilaborce, played Andy's role in the film called Absolute Warhol, the whole village has called him Endi. When he puts his make-up, wig and glasses on, it is like Andy staring back at you. It was none other than Michal Bycko who discovered him. Allegedly, he looked at him and saw Andy. Suddenly, the museum had a mascot and Endi became famous. Since then, he has not missed any exhibition opening, he "does" Warhol. Just next to the local gym in Rokytovce, he made a local gallery from a former school. It was named after his local nickname - Endi. He exhibits his paintings, sculptures, woodcraft – his art. He admires Andy. "He was not a Slovak, he was a Rusyn, and, moreover, more famous than Vasil Biľak." Allegedly, Endi even has a similar voice to Andy's. "His brother John told me," he clarifies. At a school, he set up a board as a tribute to his double. Apart from other things, painted-on women's high-heel shoes are hanging on it. He makes them with children. Just like Warhol, when he started to conquer the world.
Unlucky Miková: While the news about Warhol City is also released by foreign press agencies and mass media; the dying-out village of Miková, located 13 kilometres from Medzilaborce, stays in the shadows. The birthplace of Andy's parents. "They have stolen Andrijko from us," complain the local inhabitants, addressing the Medzilaborcians. "We have no memorial to Andy in our village," Mayor Alexander Vaco guesses everything is over. However, Miková has already had big plans, too. A memorial house and a car park for six buses. Nothing of this worked out. To commemorate Warhol, they named the festival of Rusyn culture after him. Only a well and a pear tree, which has recently been pruned by electricians, are left of his parents' legacy. The original house with a straw roof has long since disappeared. However, crowds of curious people come. Now and then, they visit Ján Závacky, Andy Warhol's cousin, a former mayor. "I knew I had a painter cousin in America. I thought he painted houses. Just later, an artist hatched out of him. If the world recognises him, I am proud that his roots go back to Mikova." It upsets him that, despite the villages' best efforts, there is nothing left of Warhol. Maybe just plenty of namesakes, most of them in the cemetery. And their names are spelled differently. Varchola, not Warhol! "I come from nowhere," that was his stock-in-phrase sentence. He would hide his roots, but they are mirrored in his work.
Prophet of consumption: Warhol's artistic propositions rather belong to marketing strategy and in this way, he was unbeatable in his era. He knew how to sell his work, he was "walking art" himself. He would surely make Medzilaborce unrecognisable. What it needs is an idea. "Andy, looking at the town, must turn in his grave," this is how the eccentric curator sees it. And not because he is buried in Pittsburgh next to a John Slota (Translator's note: There is a Slovak politician with the same name fighting against national minorities.). "To be always present yet stay in the background," this was Warhol's motto. In the case of Medzilaborce, the town council live by it to the fullest, they do not even know how much. Although Warhol is still in the town, on first inspection it seems he is not. Who knows for how long.
Juraj Sedlák
14.07.2006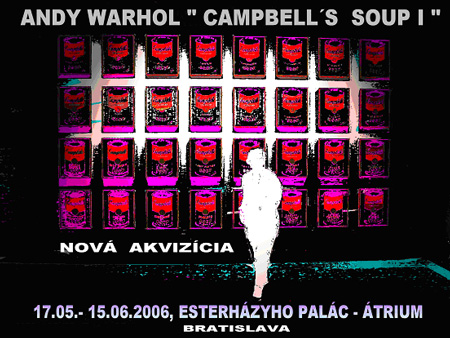 Warhol is better known in Serbia than in our country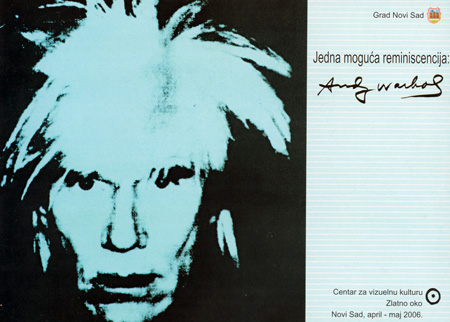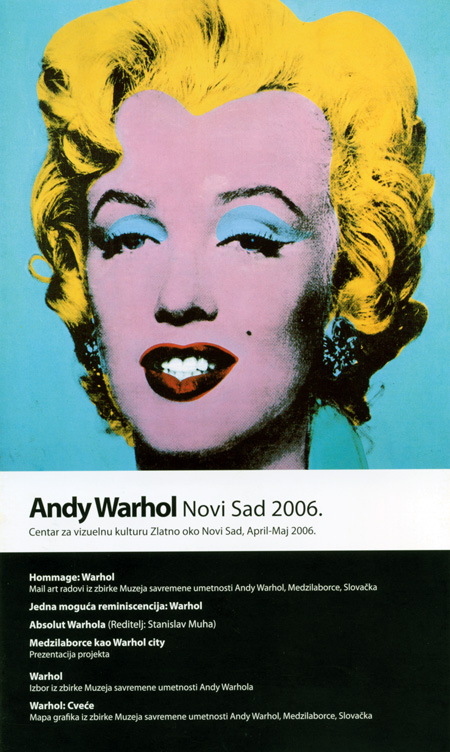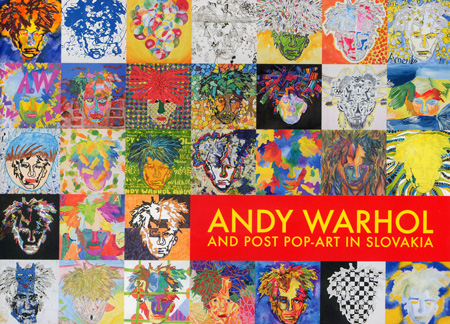 One main representative catalogue-publication (82 pages of the text, more than 200 black and white and colour reproductions) and three small catalogues, dimensional placards along the road in the distance of 30 kilometres close to Nový Sad, miniature promotional items, great interest from part of media... – all of the abovementioned was the natural part of the project ANDY WARHOL – POST POP-ART IN SLOVAKIA in the Serbian town of Nový Sad.
The project consisted of more parts – the individual events, exhibitions mainly. The first exhibition, and that is the mail-art international exhibition Homage Andy Warhol out of the collection of the Museum of Modern Art of Andy Warhol (MMUAW) in Medzilaborce and Voyvodina Slovak, Mr. Jaroslav Supek, was opened on 25th April 2006 at 06.00 p.m. in Bel Art Gallery. The second exhibition – Slovak and Serbian pop-art was opened at the same evening at 07.00 p.m. in Voyvodina Museum. The third exhibition under the title Flowers Black and White (series of 10 black and white A. Warhol paintings) was opened at that evening at 08.00 p.m. in Centre of visual culture. At the same time in the cinema Bioskop of Cultural Centre of the town the presentation of documentary film of known Polish director Stanislaw Mucha – Absolut of Warhol took place. On the second day, on 26th April 2006 in Municipal Information Centre the presentation of the project of Municipal Administration Authority in Medzilaborce – Warhol City took place and was introduced by Mr. Vladimír Protivňák, the officer of the Municipal Administration Authority. The forth and main exhibition had its opening in the Gallery of Voyvodina Bank in Novy Sad at 08.00 p.m. under the title WARHOL and thousands of spectators were coming to see it until 01.00 a.m.!!!
More than 300 exhibits formed the most large-scale exhibition of Andy Warhol works in Serbia. Organisers in Novy Sad invested the millions into the project. Thousands of people in long line were coming to the exhibitions in Novy Sad as they used to be queuing in front of the Lenin Mausoleum in Moscow. They came to see the exhibited art works and artefacts about the work, life, and Rusyn origin of Andy Warhol. About 100 original works, more than 50 artefacts, documents, the art works of Slovak and Serbian post pop-artists and known world mail-artists formed the content of "festival" dedicated to the greatest Rusyn of 20th century in the world – Andy Warhol, which shall last until 20th May 2006. Not only the project organisers (the Municipality of Nový Sad under the patronage of the Minister of Culture of Voyvodina and the Andy Warhol Museum of Modern Art in Medzilaborce) and authors - curators (Dr. Michal Bycko, PhD. and Mgr. Martin Cubjak from Slovakia, Jaroslav Supek, M.A. and Dr. Sava Stepanov from Serbia), but also the media and alike were almost shocked because of the great interest. Three days after the exhibition opening the fax asking for the re-implementation of the project in Belgrade was delivered to the Andy Warhol Museum of Modern Art!
This is the present condition Warhol enjoys in Serbia. Wish we get our acts together as well and start realising what we have at home and decide to present things the world is interested in. Hardly anybody would take interest in neverending folklore performances and gnocchi with sheep cheese. We live in the third millennium!
Dr. Michal Bycko, PhD.
one of the project authors

This is what it looked like in front of the Voyvodina Bank Gallery in late evening hours on 26th April 2006, where the main exhibition – WARHOL was installed.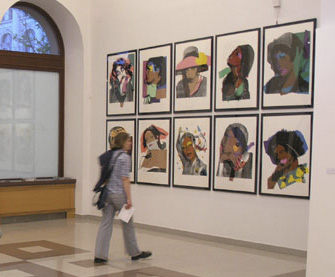 Exhibition premises of the Voyvodina Bank Gallery, displaying on its front wall the
series of 10 works of A. Warhol under the title Ladies and Gentlemans.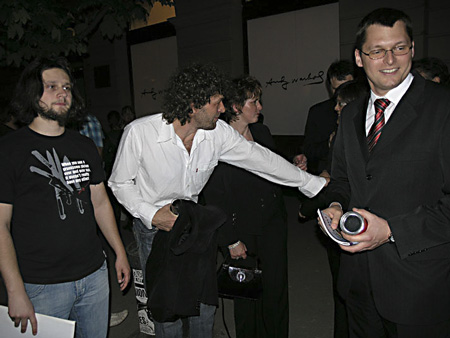 From the opening of the main exhibition Warhol: (from left to right) The opening exhibition curator Mgr. Martin Cubjak, Minister of Culture of Voyvodina Radovan Jokič, the Directress of the Andy Warhol Modern Art Museum in Medzilaborce Mgr. Valika Maďarová and 3rd secretary of the Embassy of the Slovak Republic in Serbia Tomáš Ferko from Belgrade.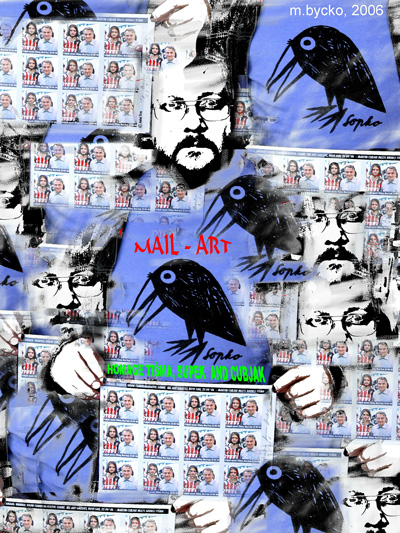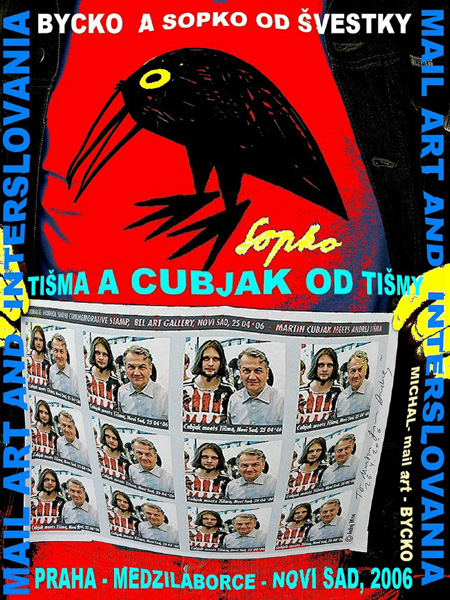 Mail-art work by Michala Bycka as a response to the project Andy Warhol – post
pop-art in Slovakia.

---
THE GALLERY OF SOME OF THE PAINTINGS
WORLD-FAMOUS RUSYN, ANDY WARHOL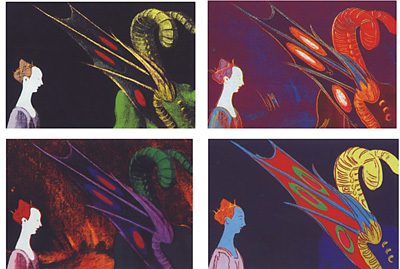 Details of Renaissance Paintings; (Paolo Uccello, St. George and The Dragon, 1460)
Medium Screenprint on Arches Aquarelle (Cold Pressed) paper.
Year 1984 Size 32" x 44", image 25" x 37"
Edition of 50, 12 AP, 5 PP, 4 HC, signed and numbered in pencil lower left. There are 36 TP portfolios , signed and numbered in pencil lower left, containing print II.316A and one image from each of Details portfolios(II.316-319, II.320-323, II.324-327).
Misc. Portfolio of four screenprints.
Printer: Rupert Jasen Smith, New York
Publisher: Editions Schellmann & Klüser, Munich, Germany / New York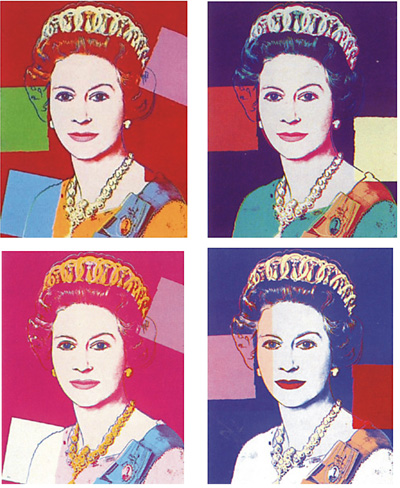 Reigning Queens: Queen Elizabeth II Of The United Kingdom
Medium Screenprint on Lenox Museum Board.
Year 1984 Size 39.375" x 31.5"
Edition of 40, 10 AP, 5 PP, 3HC, 30 TP containing only one image of each queen, signed and numbered in pencil lower right
Misc.
Portfolio of sixteen screenprints.
Printer: Rupert Jasen Smith, New York
Publisher: Geaorge C. P. Mulder, Amsterdam, The Netherlands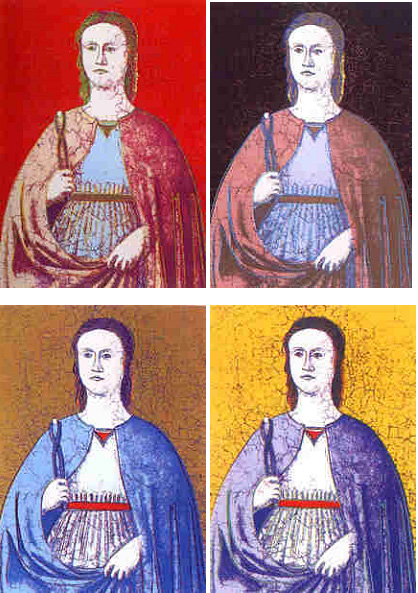 Title Saint Apollonia ( F/Sch: 330 – 333 )
Medium Screenprint on Essex Offset Kid Finish paper.
Year 1984
Size 30" x 22", 76,2 x 55.9 cm
Edition of 250, 35 AP, 8 PP, 80 individual TP not in portfolios, 20 individual TP not in portfolios numbered in Roman numerals, signed and numbered in pencil lower left. The prints TP 1/80-29/80 are on Arches 88 paper with the image reversed, 43" x 30.5"; TP 30/80-80/80 and TP I/XX-XX/XX are on Essex Offset Kid Finish paper, 35" x 23"; image 30" x 22".
Misc.
Printer: Rupert Jasen Smith, New York
Publisher: Dr. Frank Braun, Düsseldorf, Germany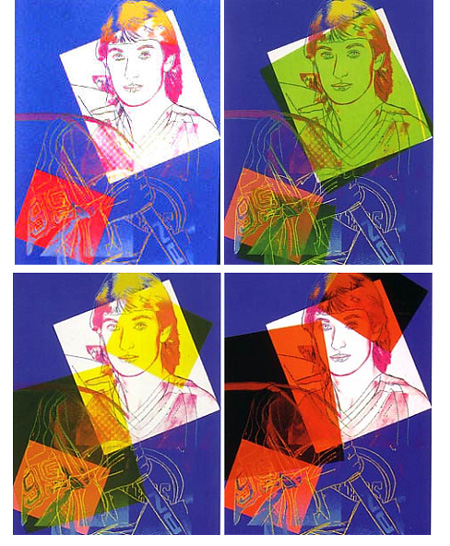 Artist Andy Warhol
Title Wayne Gretzky #99
Medium Screenprint on Lenox Museum Board.
Year 1984
Size 40" x 32"
Edition There are 46 TP signed and numbered in pencil on verso by the executor of The Estate of Andy Warhol on a stamped certificate of authenticity. There are 6 PP, which are trial proof variations, signed and numbered in pencil lower left. Each print is unique.
Unique prints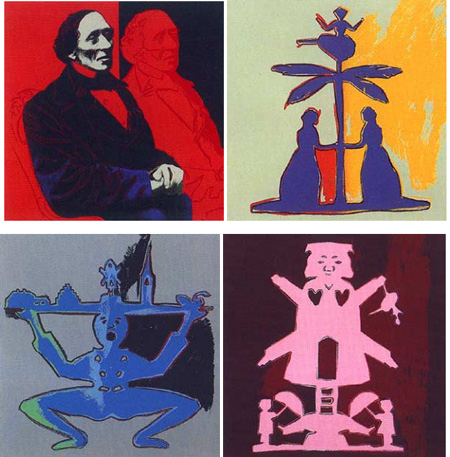 Artist Andy Warhol
Title Hans Christian Andersen ( F/Sch II: 394 -397 )
Medium Screenprint on Lenox Museum Board.
Year 1987
Size 38" x 38", 96,5 x 96,5 cm
Edition of 25, 8 AP, 3 PP, 5 HC, numbered in pencil and signed in pencil on verso by the executor of The Estate of Andy Warhol, the publisher, and the printer on a stamped certificate of authenticity. There are 36 TP signed and numbered in pencil as noted above.
Misc.
Printer: Rupert Jasen Smith, New York
Publisher: Art Expo Danmark, Odense, Denmark